Dental Implants Brisbane City
Replace missing or damaged teeth with dental implants
When it comes to the prospect of getting teeth implants, people are often apprehensive about what will take place during the procedure or how the implant will look once the procedure is finished. For those who have enough bone in the jaw to properly support an implant, a dental implant can be a straightforward way to restore the natural look of a complete set of teeth.
Also known as:

Teeth implants
Tooth implants
False teeth implants
False teeth inserts
Titanium false teeth
artifical tooth replacement
Screw in teeth

Desired Results:
Replace one or more teeth with dental implants for a long-term, functional tooth replacement. Dental implants can last a lifetime.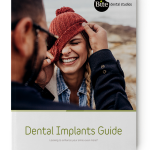 Download the Dental Implant Guide
Restore your teeth and smile with a common dental procedure
The term 'dental implant' may sound invasive, as though it's a procedure that requires weeks of recovery. Many people often cringe at the term 'implants' because they equate it with something that doesn't necessarily look natural. In reality, a dental implant is a very common dental procedure that has been perfected over the years by dental offices around the world. Bite Dental Studios has performed countless dental implants for those who were well-suited for the procedure. In the end, under the right circumstances, an implant can look and feel much more natural than a denture. An implant often feels much more stable in the mouth and those who have a dental implant often wish they had decided to get a dental implant years before they did.
How do you know if a dental implant is right for you?
If you are missing teeth, a dental implant might be a good solution for restoring the look and feel of a full set of fully-functioning teeth. Again, one of the major determinants of whether or not you're a good candidate for an implant is the amount and positioning of the available bone in your jaw. If you're interested in this dental procedure, however, the only way to know for sure if you're able to support dental implants is with a full dental consultation. When you book a dental consultation at Bite Dental Studios, our team will assess your current and existing dental and overall health history to determine if a dental implant is a good solution for you.
How long can you expect an implant to last?
When done properly, an implant can and should last a lifetime. Those who choose to have implants can expect to enjoy full use of their implants for years to come, just like a set of healthy teeth. Of course, there are exceptions to every rule and special circumstances can sometimes mean that an implant has to be re-done or repaired. We stand behind every dental implant we perform, however, so you can expect lasting results.
A dental implant or implants should be taken care of just like regular teeth and should not require special care. Just brush, floss and visit your dentist for regular dental check-ups.
Book a consultation
Unsure about where to start? Get in touch with us. Our dental team will be able to look into your individual circumstances and guide you in the right direction.
Frequently asked questions
What can I eat after dental implant surgery?
We recommend that you stick to soft foods while your mouth heals from dental implant surgery. For the first two days following your procedure, it's best to consume liquids, like blended soups and broths. Yoghurt and ice cream are also good options as they don't require any chewing. After around the third day following surgery, it is usually fine to start adding soft foods like mashed potatoes and scrambled eggs, which are easy to eat. Remember to drink plenty of water during this time to ensure that you stay hydrated. After around a week you should be able to resume your normal eating habits.
What material are dental implants made of?
Dental implants are made from titanium, which is a biocompatible material. This means that the implant actually fuses with the bone in a process known as osseointegration. Titanium is used for its ability to maintain the health of the jaw bone, as well as the fact that the material allows the implant to function just like a natural tooth root. A titanium dental implant effectively holds the artificial tooth (the crown) in place and stimulates bone growth in the jaw.
Do dental implants feel natural?
Yes, absolutely. Dental implants look and feel just like natural teeth. The visible part of the implant, which is the prosthetic tooth or crown, is tooth-coloured, so it blends in well with your natural teeth, while the titanium root functions like a natural tooth root. Once you have had your implant placed, you can expect to bite and chew normally. Functions like speech, which may have been affected by a missing tooth, will be restored. In fact, you shouldn't notice a difference between your implant and your natural teeth once you have fully recovered from the surgery.
People are also looking at: