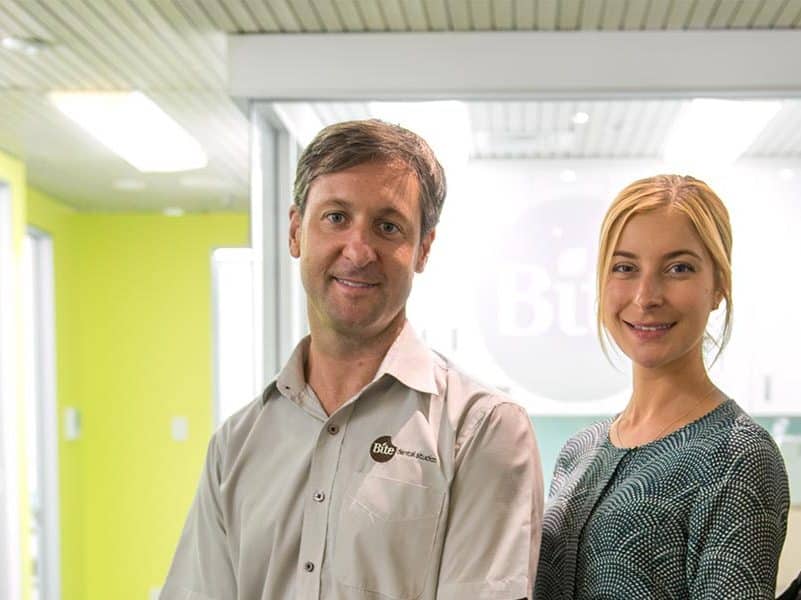 Get to know our dedicated dentists, Dr Simon Franks and Dr Julia Moldavtsev.
At Bite Dental Studios in the Brisbane CBD, we are proud to have a team that is both experienced and passionate about the work that we do. Our two dentists, Dr Simon Franks and Dr Julia Moldavtsev each bring a unique set of skills and expertise to our practice. Read on to find out more about each of our dentists, and how they can help you with your oral health…
Meet Dr Simon Franks
Dr Franks was born in New Zealand and is qualified with an honour's degrees in Dentistry, Neuroscience and Human Anatomy. He also has a master's degree in Clinical Dentistry, which he was awarded distinction from King's College London.
Since qualifying, Dr Franks has been elected as an associate of King College London and is also a fellow of the Royal Australasian College of Dental Surgeons, for which he serves on the Queensland Regional Committee and as an examiner.
What are Dr Franks' strengths?
Although Dr Franks completed his master's degree in prosthodontics, which includes training in dental aesthetics, veneers, crowns, bridges and implants, he has maintained his registration as a general dentist. Some of Dr Franks special interests include prosthodontics, which refers to the restoration of damaged, worn and chipped teeth. He enjoys helping patients transition from false or missing teeth to reach a point where they can enjoy a fully functional and comfortable set of permanent teeth again.
Besides helping his patients by restoring the ability to chew comfortably, Dr Franks also works on a lot of dental cosmetic cases. Part of this process includes spending time with each of his patients to really make sure he understands their goals and expectations. Simon prides himself on creating some pretty stunning smiles ones that are also long-lasting and easy to maintain
Watch Dr Franks talk about why he loves working in the field of dentistry here.
Meet Dr Julia Moldavtsev
With a degree in dental surgery, Dr Moldavtsev has also furthered her training in sleep medicine. With a passion for helping her patients achieve good quality sleep, she works with a community of other health professionals to provide individual and customised treatments for both adults and children. In fact, Dr Moldavtsev has strong relationships with a wide circle of health practitioners and is a member of a number of professional organisations, including the Australian Dental Association, the Australian Sleep Association, Allied Health, the Brisbane Women's Club, and Business Networking International.
What are Dr Moldavtsev's strengths?
Besides her work in sleep medicine, Dr Moldavtsev also enjoys helping her patients improve their smiles. She provides a range of smile improvement treatments, including Invisalign, whitening, amalgam replacement, veneers and crown work. She is also experienced in the treatment of issues such as jaw pain and other jaw joint issues and also provides general and restorative dentistry services like fillings, root canal therapy, tooth extractions and dentures.
Dr Moldavtsev is committed to providing top quality dental care and has also worked with the Royal Flying Doctor service to provide dental treatment to people living in very remote areas. She is involved in research and education and has published a number of articles to raise dental awareness and progress in the field of dentistry.
To find out more about our team and how they can help you with your oral health, please take a look here.
If you would like to make an appointment to see one of our dentists, please don't hesitate to get in touch. At Bite we pride ourselves on providing top quality dental care, matched with friendly and compassionate service.
We are conveniently located in the heart of Brisbane City. To find us, take a look here.